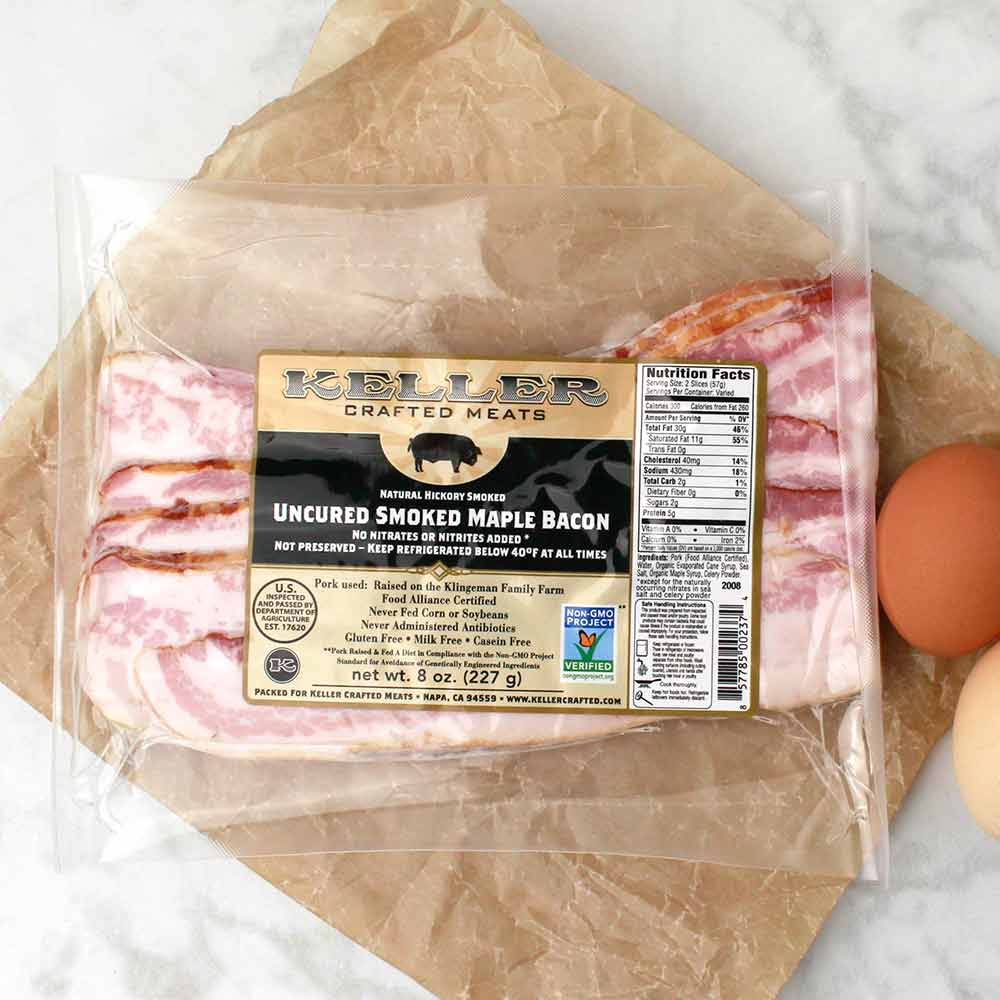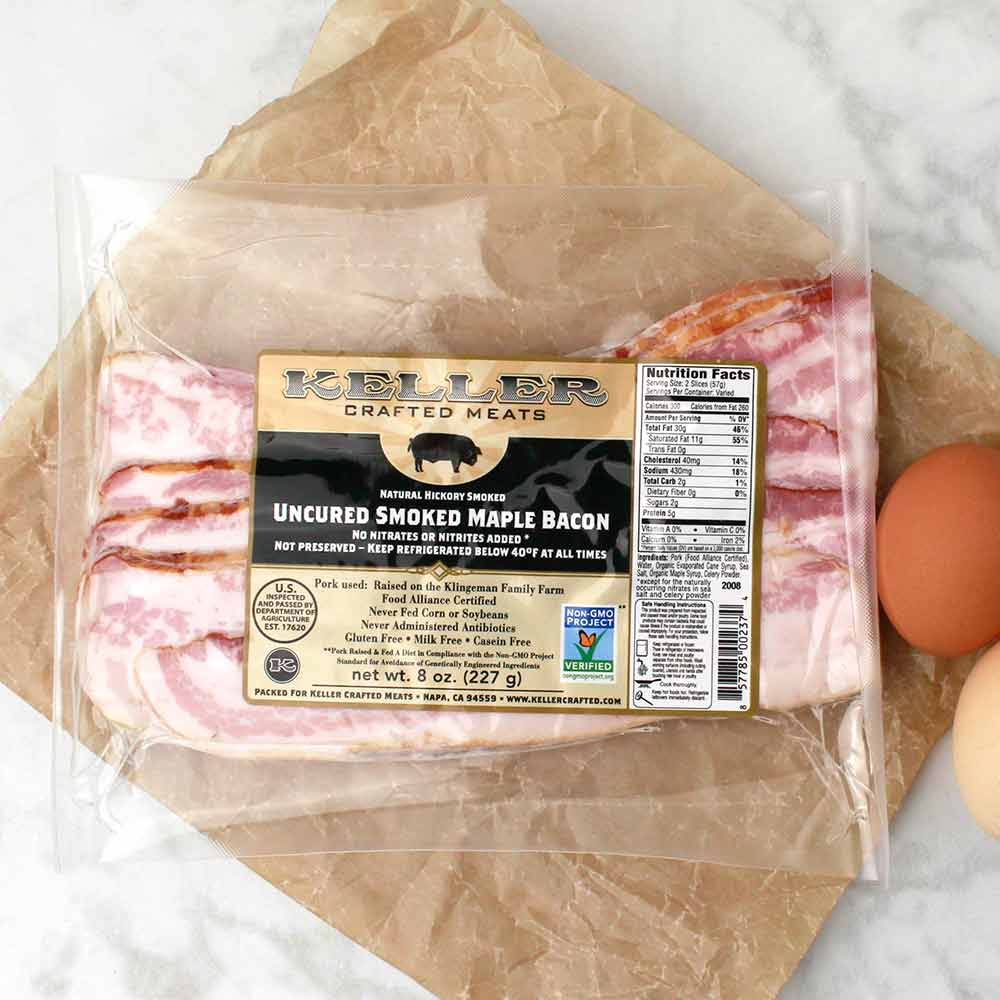 Keller Crafted Meats
Uncured Smoked Maple Bacon, Non-GMO Certified
8oz

New To Us?
Check Our
DELIVERY AREAS:
Product details
Keller Crafted Meats handcrafts artisan products that honor the animal, respect nature and nourish human beings.
Whether served for breakfast or wrapped around asparagus spears, bacon is a great addition to any recipe. Equal parts sweet and smoke, this is a delicious artisan bacon for all occasions.
Ingredients: Pork (Food Alliance Certified), Water, Evaporated Cane Syrup, Sea Salt, Organic Maple Syrup, Cultured Celery Extract
Adhering to the most progressive standards in the country, they combine humanely and sustainably raised, antibiotic-free meats with the finest quality herbs and seasonings. They only use organically approved meat preservation techniques and 100% of the meat is sourced from single family farms. Not certified organic.
Non-GMO Project Verified. No Added Hormones. No Antibiotics. Nitrate Free. Member of the Good Food Merchants.
***
Meat is vacuum-packed at the peak of freshness. It is is delivered frozen, separate from your produce box, in an insulated package with ice packs. We recommend a cooler be set out for meat and dairy items to be placed into upon delivery.
About the producer
Keller Crafted is Mark Keller's creation, or perhaps better described as his nearly two-decade long experiment in creating a more honorable and conscientious food system. Mark focuses on processing meats and creating whole animal solutions; he believes is the most significant bottle neck in creating a more conscientious and honorable food system. It was this deep dive into butchery and hand-crafted charcuterie like sausages, hot dogs, deli meats, bacon and jerky that created the foundation for the Keller Crafted product line.
This focus also allowed Keller Crafted to provide processing services for many of the region's best farmers dedicated to raising the purest, most nutritious and humanely raised animals. Mark's heritage breed hogs were moved from the Capay Valley to the Klingeman Family Farm in Washington state, a trusted hog farming family with a certified organic farm. Keller Crafted then partnered with Klingeman to develop a line of pork products that both companies market.
By owning and operating the processing, Keller can utilize the whole animal, which improves the economic viability of his farmer partners, and provides value to customers, while doing the right thing at every step, from farm to table.
From Our Organic Farm To Your Doorstep

We bring organic produce, speciality grocery and hand-crafted farm products fresh from our own family farm & local partners directly to your doorstep. Customize your orders & delivery schedule.

GET STARTED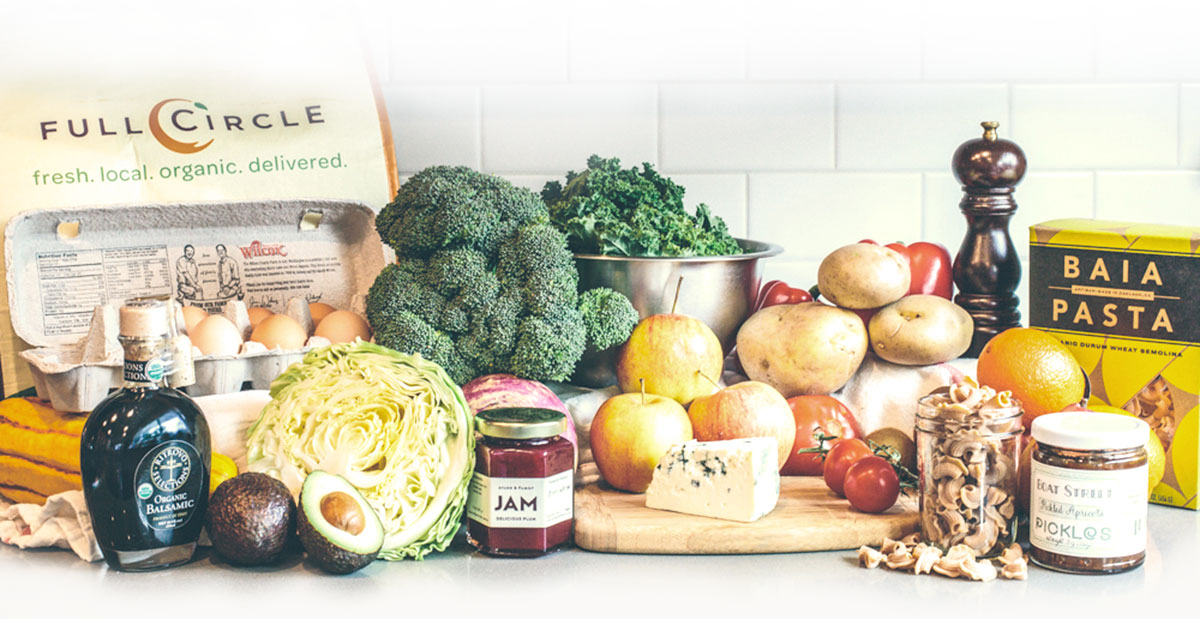 Add Artisan Farm Products

Delivered To Your Door: How Does It Work?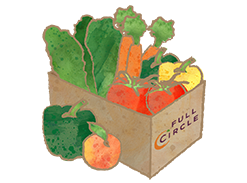 Pick Your Box
Style
Whether you are a fruit fanatic, veg head or love it all, you can choose (& change) the size & type of produce box that works for you.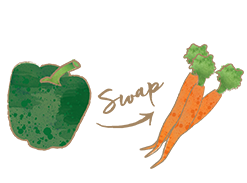 Customize Your
Produce
Want to make changes to the organic produce arriving in your delivery? No problem! It's simple to add and swap out items in our online Farm Stand.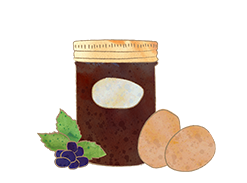 Add Grocery
Items
Add unique grocery and farm products to your delivery like small-batch honey, pasture-raised eggs, grass-fed meat, vegan proteins, artisan olive oil, fresh baked goods and more...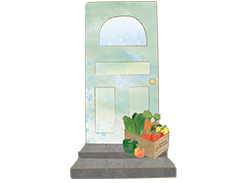 We Deliver &
You Enjoy!
Delivery to your door is included! Skip your delivery or change frequency to fit your schedule or vacations. Isn't it super fun to open your door to a delicious delivery?