This peppermint peach punch is super refreshing and after 5 o'clock would go great with rum. Not that we'd know...
INSTRUCTIONS
Bring water to a boil in a small saucepan. Add tea bags, remove from heat and let steep for 15 minutes.
Meanwhile, peel and pit three of the peaches. (We used a vegetable peeler, but you can also use a knife to peel them). Toss the peeled peaches in a blender with the lemon juice and puree until smooth.
Cut the remaining peach into slices and combine in a pitcher with the peppermint tea, peach puree and ginger beer.
Fill two (or more) glasses with ice, pour in the punch and garnish with mint (optional).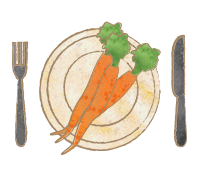 Fresh Ingredients Delivered!
We help make cooking fresh, healthy meals easy and convenient. Get creative in the kitchen with organic produce and artisan ingredients conveniently delivered to you. From the fields to your table, there is a simple way to live deliciously.