Corn Bread isn't just for Thanksgiving. This sweet summer corn bread recipe uses fresh organic corn and jalapeños for the perfect combination of heat and sweet. Drizzle with a little honey and pair with some coleslaw and your favorite BBQ'd dishes. Aaaaaah, summer…
INSTRUCTIONS
Preheat the oven to 425 degrees F. Clean the corn, removing all the silk, and boil for about 10 minutes or until tender. Let cool and remove the kernels into a small bowl using a sharp knife. In a large bowl, combine the flour, cornmeal, baking powder, baking soda and sugar. In a separate bowl, whisk together the buttermilk, eggs, melted butter, sweet corn kernels and diced jalapeño. Stir the wet mixture into the dry mixture. Pour the batter into a buttered, cornmeal-dusted cast-iron skillet and bake for 20-25 minutes or until golden brown. Remove from oven and let cool slightly. Serve warm with a drizzle of local honey.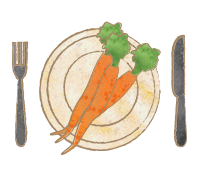 Fresh Ingredients Delivered!
We help make cooking fresh, healthy meals easy and convenient. Get creative in the kitchen with organic produce and artisan ingredients conveniently delivered to you. From the fields to your table, there is a simple way to live deliciously.