Spectacular and exotic, organic snow leopard melons are delicious and beautiful. Smooth-skinned with an alabaster rind that's speckled with flecks of jade, the flesh is icy-white and faintly reminiscent of honeydew but with slightly firmer texture. And while these wonderful seasonal melons are perfect on their own, this fascinating and simple recipe for snow leopard melon pops will excite your tastebuds and cool you off on a hot summer day.
INSTRUCTIONS
Cut the melon in half, remove the seeds and scrape out the flesh into a medium bowl. Add half of the melon, honey, cashew butter, basil leaves, and lime juice to a food processor or blender and pulse until smooth. Add the remaining melon and process until smooth. At this point, you can either pour the mixture into a popsicle tray and freeze, or transfer to a freezer-safe container and scoop out like ice cream once frozen.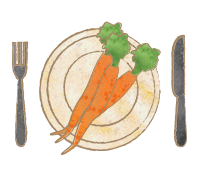 Fresh Ingredients Delivered!
We help make cooking fresh, healthy meals easy and convenient. Get creative in the kitchen with organic produce and artisan ingredients conveniently delivered to you. From the fields to your table, there is a simple way to live deliciously.