If you like kale, these chips are for you! We added nutritional yeast to get that cheesy flavor.
INSTRUCTIONS
Preheat oven to 300 degrees F. Thoroughly wash and dry your kale leaves. Remove the stems, tear the kale into pieces and place in a bowl.
Drizzle the olive oil over the top and toss to coat. Sprinkle the salt, pepper, red pepper flakes and nutritional yeast, if using, over the top. Toss again.
Spread the leaves onto a baking sheet and try not to overlap -- overlapping will result in soggy kale chips. Bake for up to 20 minutes, or until completely crisp. Serve immediately.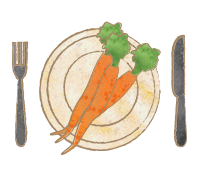 Fresh Ingredients Delivered!
We help make cooking fresh, healthy meals easy and convenient. Get creative in the kitchen with organic produce and artisan ingredients conveniently delivered to you. From the fields to your table, there is a simple way to live deliciously.