This unique twist on pesto makes a great dip and is a fantastic way to use up any extra cilantro and parsley. (You can also use it like you would regular pesto and toss with your favorite pasta).
INSTRUCTIONS
You can make this pesto in a food processor or by hand. If you make it by hand, just chop everything up very fine and mix together until well combined.
Remove the large parts of the stems from the cilantro and parsley. Put them in a food processor and pulse for a few seconds to make room for the other ingredients.
Add in the pistachios, garlic and lemon juice and blend. With the food processor running, pour the olive oil into the pesto. Season with salt and pepper to taste.
Mix into your favorite pasta, eat with crackers, mix into scrambled eggs or spread on a tortilla.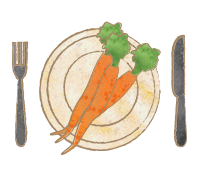 Fresh Ingredients Delivered!
We help make cooking fresh, healthy meals easy and convenient. Get creative in the kitchen with organic produce and artisan ingredients conveniently delivered to you. From the fields to your table, there is a simple way to live deliciously.