These easy and quick radish pickles have an amazing flavor and crunch! We love them on tacos, salads and just to snack on.
INSTRUCTIONS
Rinse the radishes. Using a kitchen mandoline or a sharp knife, thinly slice the radishes. Discard the ends. Place the radishes in your pickling container of choice (we used a Weck jar) and refrigerate while you prepare the other ingredients.
In a small saucepan, combine the red wine vinegar, sugar, salt, mustard, coriander seed and peppercorns. Bring to a simmer over medium-high heat, stirring until sugar dissolves. Remove from heat and let cool.
Remove the radishes from the fridge and pour the brine over the top. Refrigerate for 20 minutes before digging in.
Enjoy immediately, or for up to 2 weeks (the radishes will soak up the pickling flavor the longer they sit).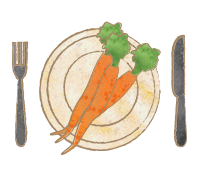 Fresh Ingredients Delivered!
We help make cooking fresh, healthy meals easy and convenient. Get creative in the kitchen with organic produce and artisan ingredients conveniently delivered to you. From the fields to your table, there is a simple way to live deliciously.