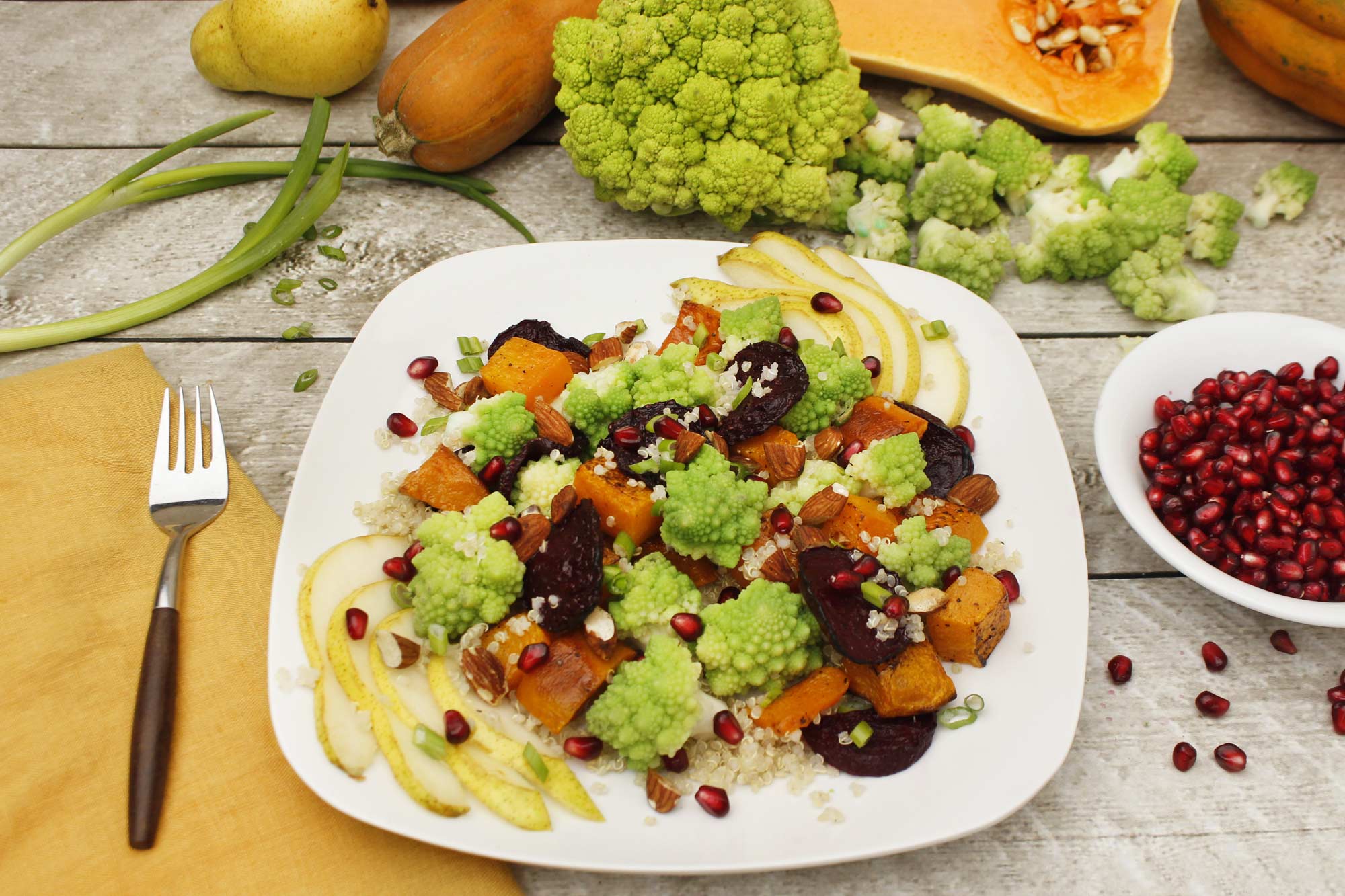 We love this colorful and hearty fall salad. There is a mild nutty flavor from the Romanesco and a bit of sweetness from the winter squash, which is balanced perfectly with the tart vinaigrette.
INSTRUCTIONS
Preheat oven to 425 degrees F.
In a small pot on medium-low heat, cook the quinoa in 1 cup water until the water is almost completely absorbed and the quinoa is tender, about 12-15 minutes. Remove the pot from the heat, cover and set aside.
Meanwhile, cut and peel the squash that you are using into 1-inch cubes. Peel and cut the beets into slices or wedges. On a rimmed baking sheet, toss the squash with 2 tablespoons olive oil, sprinkle with salt and pepper.
In a small bowl, toss the beets with 1 tablespoon olive oil and a sprinkle of salt and pepper. Loosely wrap the beets with aluminum foil and place them on the same baking sheet with the squash keeping them separated so that the beets don't turn the squash pink.
Roast them all in the oven until the squash is slightly browned and the beets are tender, about 20-25 minutes.

While the squash and beets are roasting, boil water in a medium pot with ½ teaspoon of sea salt. Add the Romanesco and cook for 2- 3 minutes, just until they are slightly tender. Remove them from the hot water and set aside.
Make the vinaigrette by whisking all the ingredients in a small bowl and refrigerate while everything else is cooking. *you may need to whisk it again before use.
Meanwhile, in a dry sauté pan, toast the almonds until golden brown, about 1-2 minutes. Set aside.
Remove pomegranate seeds from its outer shell, thinly slice the pear and chop the scallions.
Once everything is cooked and roasted, place the quinoa on a large serving plate, lay the squash and Romanesco on top. Lay the pear slices around the salad. Sprinkle over pomegranate seeds, toasted almonds and chopped scallions and drizzle over the vinaigrette. Serve immediately.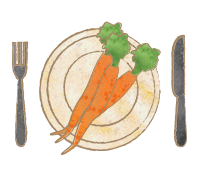 Fresh Ingredients Delivered!
We help make cooking fresh, healthy meals easy and convenient. Get creative in the kitchen with organic produce and artisan ingredients conveniently delivered to you. From the fields to your table, there is a simple way to live deliciously.