The preserved lemons are delicious in salads, on cheese platters or in your favorite Middle Eastern or Mediterranean dishes.
INSTRUCTIONS
Sterilize the jar in boiling water for 10 minutes, let dry on dry paper towels.
Scrub and wash the lemons to remove any dirt and impurities.
Slice off the stem end and the tip end of each lemon. Place the flat side of the lemon on a cutting board and slice into it, but stop a ½ inch before the bottom. Slice again perpendicularly, also stopping a ½ inch before the bottom so you now have an 'X' in the lemon. Repeat this with all the lemons.
Hold the lemons open with your fingers and liberally sprinkle salt on the inside and outside of the lemons.
Add about 2 tablespoons of salt to the bottom of the sterilized jar. Place each lemon in the jar, pushing down and making sure to fill the jar with the lemons leaving about ½ inch at the top. Some of the juices will release. Squeeze more lemons into the jar to make sure the lemons are covered in juice. Add 2 more tablespoons of salt at the top. Seal the jar with the lid tightly.
Let the jar sit at room temperature for 2 to 3 days. Each day, turn it upside down and shake it to distribute the salt and liquids.
Put the jar in the refrigerator and turn it upside down every other day for 2-3 weeks, until the rinds have softened.
When ready to use, rinse your lemons thoroughly in water to remove excess salt. Discard seeds.
*The lemons will keep in the refrigerator for six months. You can add spices to the jar such as cinnamon sticks, bay leaves, coriander seeds, cloves, peppercorns, dried chilies or cardamom pods for a variety of flavors.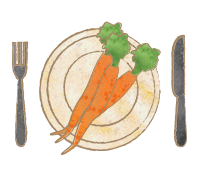 Fresh Ingredients Delivered!
Get connected to the finest organic farmers and artisans in your area. We deliver organic produce fresh from our family farm right to your door. From our field today to your fork tomorrow, there's a simple way to live deliciously!