We love the slightly tart flavor and delicate crunch of the apple in these pancakes.
INSTRUCTIONS
Beat the eggs, vanilla and milk together in a small bowl until combined.
In a large mixing bowl, whisk the sugar, cinnamon, flour, salt and baking powder.
Pour the wet ingredients into the dry ingredients and stir to combine. Stir in the apples until well distributed in the batter.
Heat a large saute pan over medium-low heat. If using a nonstick skillet, no oil or butter is needed. Otherwise, melt a pat of butter in the pan and swirl to coat.
Using a 1/3 cup as a measurement tool, place three dollops of pancake batter in the pan. Let them cook until they start to bubble on top, then flip and cook a few minutes more, until golden brown. Enjoy!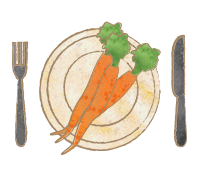 Fresh Ingredients Delivered!
We help make cooking fresh, healthy meals easy and convenient. Get creative in the kitchen with organic produce and artisan ingredients conveniently delivered to you. From the fields to your table, there is a simple way to live deliciously.