Oven Risotto with Kale Pesto
We love risotto, but standing over the stove for half an hour puts a real cramp in our dinner prep. We love this Oven Risotto recipe we adapted from Bon Appetit because it cooks in the oven while we work on other things. The kale and kale pesto make this risotto feel a little more healthy than your typical risotto. We'd love to try this oven-risotto technique with our other favorite risotto recipes.
INSTRUCTIONS
Preheat the oven to 350 degrees Fahrenheit. In a small saucepan, heat the broth and 1 cup water, or 2 cups water total over medium-low heat while you prepare the rice. In an ovenproof saucepan or dutch oven, heat 2 tablespoons olive oil over medium heat on the stove. Add the onion and cook for 3-5 minutes, until soft and translucent, stirring often. Turn the heat down slightly and pour in the rice. Cook until some of the rice is translucent, about 3-5 minutes. Season with salt and pepper. Pour in the wine and cook, about 30 seconds - 1 minute, until fully absorbed.
Add in the hot broth or water and bring to a simmer. Cover and put the rice in the oven. Cook until most of the liquid is absorbed, about 15-18 minutes.
While the rice cooks, prepare the pesto. In a food processor or blender, puree 1/4 of the kale leaves with the pistachios, basil and garlic. Drizzle in 2 tablespoons olive oil and a little bit of water until the pesto becomes smooth. Season generously with salt and pepper.
When the rice is done, remove the dish from the oven. Stir in the the pesto, Parmesan cheese and the rest of the kale leaves. Taste and season with salt and pepper if needed.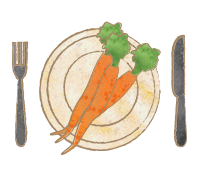 Fresh Ingredients Delivered!
We help make cooking fresh, healthy meals easy and convenient. Get creative in the kitchen with organic produce and artisan ingredients conveniently delivered to you. From the fields to your table, there is a simple way to live deliciously.