We adore the classic, rich flavor of this traditional basil pesto with an added brightness of lemon. It makes a wonderful spread on fresh bread or in a sandwich, as a pasta sauce, served over sauteed vegetables - the possibilities are endless!
INSTRUCTIONS
Wash basil leaves and thoroughly dry by patting with paper towels. Place basil leaves and garlic into a food processor and pulse until the basil and garlic is finely chopped then slowly add the oil until well combined.
Add in the pine nuts, Parmesan cheese, and lemon juice and process until the pesto is mostly pureed and well mixed.
Season to taste with salt and fresh ground black pepper and pulse a few times more.
Store in the refrigerator in a sealed reusable container for up to a week.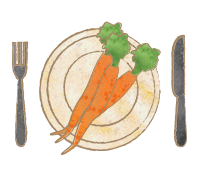 Fresh Ingredients Delivered!
We help make cooking fresh, healthy meals easy and convenient. Get creative in the kitchen with organic produce and artisan ingredients conveniently delivered to you. From the fields to your table, there is a simple way to live deliciously.