About Our Farm
Organic and Sustainable to Our Roots
From the beginning, we've embraced organic and sustainable agriculture as a way of life, an art, a dedication to care for our land, our employees, our natural habitats and our food system. We carefully select produce varieties that grow well in our area and taste great.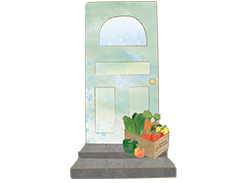 We Deliver get an organic farm box!
We bring the season's best mix of organic produce and specialty farm products conveniently to your home or office by growing and partnering with local farms and artisans in your area. Each delivery comes with farm news and recipes!